Translating diversity and inclusion
Why intercultural matters go beyond translating words
Socio-cultural norms and values play a large role when it comes to transferring client communication into a different language. Professional translators know exactly how the target audience will respond to specific word choices.
Among the most challenging translation projects we handle at Creole Solutions are documents focusing on topics that are not rooted in the cultural experience of Haitian Creole speakers. In some cases, French may be considered the more customary language choice, for example, when it comes to highly complex legal issues. In other cases, the topic at hand simply isn't part of public discourse in Haiti. Imagine the culture shock faced by speakers of Haitian Creole who receive parental guidance documents or workplace notices in the United States.
Even though the materials are written in their own language, readers still must sort out the new vocabulary, explore the concept, and come to their own understanding of it. That means intercultural matters go far beyond translating words – our task as linguists is to find appropriate phrasing to capture the essence of entire concepts.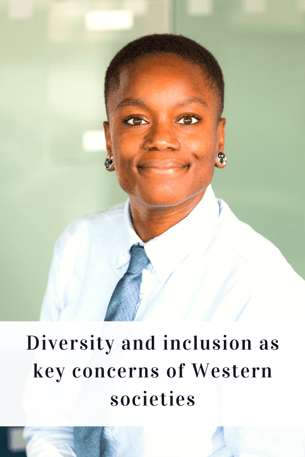 Photo: Pexel
Diversity and inclusion as key concerns of Western societies
Diversity is a major concern in countries such as the U.S. and Canada, which are actively looking to make use of internal and external diversity dimensions such as age and gender as well as location and background. As international melting pots with immigrants from all over the world, these countries must absorb workers from different cultures into their economies. In addition, diverse work environments are known to produce more creative results and can identify solutions that were not accessible before.
McKinsey's Why Diversity Matters report also found that companies in the top quartile for racial and ethnic diversity tend to have substantially higher financial returns. For all of these reasons, many of our clients address diversity and inclusion concerns in the materials they want to share with the Haitian community. They know they can count on us to strike the right tone in our translations. Commitment to diversity means open discussion, using frank language and accurate labels that are not derogatory or prejudiced.
For us as translators, it comes as no surprise that combining the strongest elements of two cultures benefits everyone. We also know that our language choices in Haitian Creole pave the way for dignity and intercultural understanding. Talking rationally about diversity is a powerful means to help overcome stereotypes and cultural biases. After all, an educated discussion starts with respectfully shared information.
This article discusses two dimensions of diversity we frequently encounter in client requests and explains our approach to translating them into language that creates trust and buy-in from recipients.
Neurodiversity
Neurodiversity is the perspective that brain differences are normal occurrences, not shortcomings. It is now known that there are many ways to think, learn and process information, and autism, dyslexia and ADHD are commonly diagnosed in children. Because neurodiversity is not always discussed with the same openness and impartiality in Haiti, it can be difficult to find the related vocabulary and resources. Our team at Creole Solutions frequently receives materials on topics related to neurodiversity for translation, from clients in the healthcare industry, but also from human resource departments and educational institutions.
We are fully aware of the important role our final product – information brochures, parent guides, or employment videos – will play: Not only will every client's mission be faithfully rendered in Haitian Creole, but our language choices can literally give readers a fresh perspective on a situation they experience in their own life. Clients seeking to gain buy-in and trust from their audiences should never underestimate the power of carefully worded, grammatically correct language to offer helpful resources and information.
To give an example, a brochure we translated about early signs of autism in children highlighted developmental milestones and encouraged parents to seek medical help for an assessment. Parents in Haiti are unlikely to have ready access to developmental support services, for example in the case of a child with delayed speech onset. Our wording therefore had to strike the right balance between medical accuracy and compassion for parents confronting fears about their child's development. The brochure was well received and helped parents in the community learn about the assistance they could expect from their local health authorities.
LGBTQ+ diversity
Skillful translation is much more than "retyping a text in a foreign language." It builds a helpful bridge for speakers of the other language by offering appropriate word choices for concepts that may not elicit the same cultural response in the target culture. Here at Creole Solutions, we go the extra mile when non-judgmental words don't exist in common Haitian Creole usage. In those cases, we go deep into the relevant literature or news communication to find terms that are a good fit for the concept.
A record 18 million adults, around 5.6% of the adult population, now identify as LGBTQ+ in the United States. Many of our clients are actively engaged in providing information resources for and about this segment of the population to help promote diversity and inclusion, for instance, in workplaces and schools. Since members of the LGBTQ+ community face social and legal challenges not experienced by non-LGBT residents in Haiti, any discussion of sexual orientation in Haitian Creole is culturally sensitive.
When we translate such materials, we keep in mind that Haitian Creole speakers need information in plain language. Instead of using derogatory slang terms for gay people, we strive to use respectful phrasing such as "omoseksyèl" to avoid discrimination. Our translation team has helped create Haitian Creole versions of pride health centers and brochures targeting LGBTQ+ Haitians living in the U.S. – thus contributing to educated discourse about living well.
Language enables full participation
Reading and hearing appropriate language to describe a personally familiar situation is an empowering experience. Our word choices enable recipients to approach diversity dimensions such as neurodiversity or sexual orientation in a non-judgmental way. That's why we keep intercultural aspects in mind when we clarify the project brief of new assignments. Who are the recipients of the text, and what do we know about this group? How will the translated materials be used? The more our clients can share about the purpose of a text, the better we can address the intended target audience.
Based on the client brief, we conduct careful research and confirm the actual usage of certain phrases. This may involve direct conversations with medical practitioners or other experts, to make sure we capture the essence of the text with appropriate vocabulary and syntax. We make phone calls and even watch YouTube content to verify the right terminology!
In a last step, the texts are edited by qualified native speakers to ensure consistency across documents.
Translators are always encouraged to know that their work promotes understanding and information sharing. To us, the idea that our work helps a Haitian parent find treatment for a child on the autism spectrum or that a queer Haitian teenager will learn from a website where to turn for counseling is nothing short of exhilarating.
About Creole Solutions:
As an experienced partner for clients in the healthcare industry, Creole Solutions offers complete packages for translating your outreach materials for the Haitian community. To us, Haitian Creole isn't just one of many language pairs we offer. It is the only one – our own.
We have provided expert translations into Haitian Creole for over 15 years. Our clients particularly appreciate the fact that our work doesn't end when we deliver a translation. They know they can count on us whenever there are updates or questions to address.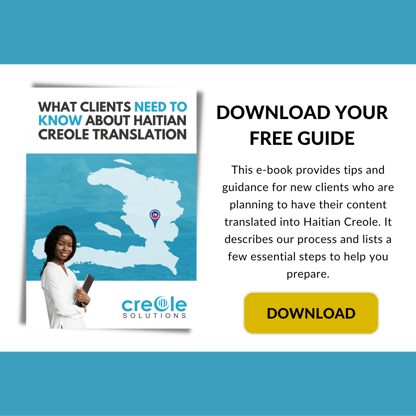 Do you have more questions or need help with a translation project? Get in touch – we will be pleased to assist you!