Marleen Julien Graduates from Prestigious Goldman Sachs 10k Small Businesses Program
We're thrilled to announce that our owner, Marleen Julien, has successfully completed the Goldman Sachs 10k Small Businesses program, which is delivered in partnership with Babson College!
The Goldman Sachs 10k Small Businesses program is highly competitive, with over 100 applicants vying for just 25 spots in the program. The application process is rigorous and involves detailed documentation and a thorough review of the applicant's business plan and financials. Only the most promising small businesses are accepted into the program, making Marleen's acceptance a truly remarkable achievement.
Babson College is a top-ranked business school that is widely recognized for its entrepreneurship programs. The school is dedicated to developing entrepreneurial leaders who create economic and social value around the world. Babson has been named the #1 school for entrepreneurship by U.S. News & World Report for over 25 consecutive years.
The program provides small business owners with practical business education, access to capital, and personalized support and advice. Participants receive training in a variety of key areas, including:
Leadership: Building and leading a high-performing team.
Financial management: Understanding financial statements, managing cash flow, and accessing capital.
Marketing: Developing and implementing effective marketing strategies.
Operations: Improving productivity and efficiency through process improvement.
Negotiation: Negotiating effectively with customers, suppliers, and partners.
Growth: Developing a growth strategy and scaling the business.
The courses were held in person at the Harold Washington College, with top business professors from the Chicago area teaching the modules. This allowed Marleen and the other program participants to receive high-quality instruction and personalized support from respected business educators.
"The courses were challenging, but the knowledge and skills that I gained were invaluable. The program helped me to shift my mindset from a freelance perspective to an entrepreneur perspective. I now have the tools and confidence to grow my business and take it to the next level."
Creole Solutions is a women-owned business that specializes in Haitian language and culture. We offer consulting and translation services to businesses of all sizes, helping them have a wider reach of the Haitian market in the United States and Haiti. Creole Solutions is also committed to creating jobs and economic opportunities in the Haitian community, and we are proud to be a part of the thriving small business community in the Chicago area.
Through the program, Marleen gained the knowledge and skills needed to think strategically, identify growth opportunities, and make informed decisions to drive her business forward. She also had access to world-class resources and experts from Babson College and the Goldman Sachs Foundation, and was able to network with other small business owners and entrepreneurs, sharing insights and strategies to help grow and strengthen their businesses.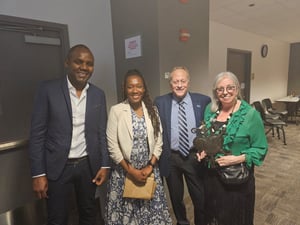 We're incredibly proud of Marleen for her dedication and commitment to completing this prestigious program, and we're excited to see how she will apply her newfound knowledge and skills to drive our business forward. If you're a small business owner looking to take your business to the next level, we highly recommend checking out the Goldman Sachs 10k Small Businesses program delivered in partnership with Babson College. It could be the key to unlocking your business's full potential!