How Google is Helping Diverse Businesses become Digitally Capable
Google has long been committed to supplier diversity but stepped up its efforts substantially in the summer of 2020 when the company set a public goal of spending $1 billion with diverse-owned suppliers and $100 million with Black-owned suppliers in the U.S.
As part of that effort, the company offers scholarship opportunities to Google's Diverse Supplier Growth Programs, such as the Digital Excellence Program offered jointly with the Tuck School of Business.
Creole Solutions, a Women Owned Small Business (WOSB), recently received a fully funded invitation to attend a three-day business event at Tuck, specifically aimed to provide minority-owned businesses with the skills and knowledge they need to leverage digital technologies to expand their businesses.
At Creole Solutions, we help companies and organizations communicate with Haitian audiences by accurately translating their content into well-researched and beautifully crafted Haitian Creole. We create modern terminology tools and have a unique translation quality process.
Many small businesses overlook that they must offer the products and service solutions clients are looking for, which means we must be in tune with client preferences and demands. The curriculum designed by academic experts, industry leaders, and Google specialists taught participants how to create a digital footprint effectively, making their businesses easily accessible to clients.
Although Creole Solutions is a successful Single Language Provider, our owner Marleen Julien believes there are more opportunities to enhance our digital capability. "It was a wonderful opportunity to connect with other minority-owned businesses and compare notes about our digital readiness. The scaling strategies we discussed were particularly exciting since Creole Solutions is growing heavily at the moment, and we need to be mindful of using our resources wisely. A big thank you to Google and Tuck for this outstanding opportunity!"
We are thrilled to apply these new skills to serve our clients better. You can learn more about this program here.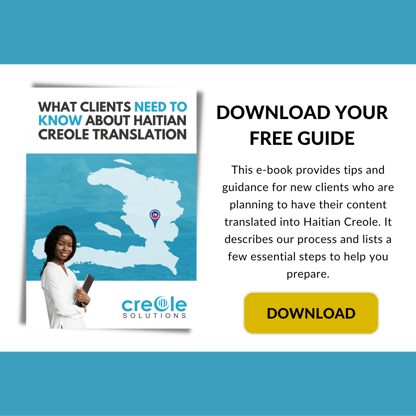 What buyers of Haitian Creole translation need to know
Translation allows businesses to reach more customers, unlock new markets, and foster new relationships. Our Buyer's Guide for Translation Services contains helpful tips for approaching translation projects.
Do you have more questions or need help with a translation project? Get in touch – we will be pleased to assist you!